6th Grade and Up Readers:
"A timely, crucial, and empowering exploration of racism--and antiracism--in America

This is NOT a history book.
This is a book about the here and now.
A book to help us better understand why we are where we are.
A book about race.

The construct of race has always been used to gain and keep power, to create dynamics that separate and silence. This remarkable reimagining of Dr. Ibram X. Kendi's National Book Award-winning Stamped from the Beginning reveals the history of racist ideas in America, and inspires hope for an antiracist future. It takes you on a race journey from then to now, shows you why we feel how we feel, and why the poison of racism lingers. It also proves that while racist ideas have always been easy to fabricate and distribute, they can also be discredited.

Through a gripping, fast-paced, and energizing narrative written by beloved award-winner Jason Reynolds, this book shines a light on the many insidious forms of racist ideas--and on ways readers can identify and stamp out racist thoughts in their daily lives." (From https://www.ibramxkendi.com/stampedbook#:~:text=This%20remarkable%20reimagining%20of%20Dr,the%20poison%20of%20racism%20lingers.)

"Twelve-year-old Shayla is allergic to trouble. All she wants to do is to follow the rules. (Oh, and she'd also like to make it through seventh grade with her best friendships intact, learn to run track, and have a cute boy see past her giant forehead.)
But in junior high, it's like all the rules have changed. Now she's suddenly questioning who her best friends are and some people at school are saying she's not black enough. Wait, what?
Shay's sister, Hana, is involved in Black Lives Matter, but Shay doesn't think that's for her. After experiencing a powerful protest, though, Shay decides some rules are worth breaking. She starts wearing an armband to school in support of the Black Lives movement. Soon everyone is taking sides. And she is given an ultimatum.
Shay is scared to do the wrong thing (and even more scared to do the right thing), but if she doesn't face her fear, she'll be forever tripping over the next hurdle. Now that's trouble, for real." (From https://www.harpercollins.com/products/a-good-kind-of-trouble-lisa-moore-rame?variant=32116627832866)
"Ghost. Lu. Patina. Sunny. Four kids from wildly different backgrounds with personalities that are explosive when they clash. But they are also four kids chosen for an elite middle school track team—a team that could qualify them for the Junior Olympics if they can get their acts together. They all have a lot to lose, but they also have a lot to prove, not only to each other, but to themselves.

Running. That's all Ghost (real name Castle Cranshaw) has ever known. But Ghost has been running for the wrong reasons—it all started with running away from his father, who, when Ghost was a very little boy, chased him and his mother through their apartment, then down the street, with a loaded gun, aiming to kill. Since then, Ghost has been the one causing problems—and running away from them—until he meets Coach, an ex-Olympic Medalist who sees something in Ghost: crazy natural talent. If Ghost can stay on track, literally and figuratively, he could be the best sprinter in the city. Can Ghost harness his raw talent for speed, or will his past finally catch up to him?" (From https://www.simonandschuster.net/books/Ghost/Jason-Reynolds/Track/9781481450164)

"Miles Morales is just your average teenager. Dinner every Sunday with his parents, chilling out playing old-school video games with his best friend, Ganke, crushing on brainy, beautiful poet Alicia. He's even got a scholarship spot at the prestigious Brooklyn Visions Academy. Oh yeah, and he's Spider Man.
But lately, Miles's spidey-sense has been on the fritz. When a misunderstanding leads to his suspension from school, Miles begins to question his abilities. After all, his dad and uncle were Brooklyn jack-boys with criminal records. Maybe kids like Miles aren't meant to be superheroes. Maybe Miles should take his dad's advice and focus on saving himself.
As Miles tries to get his school life back on track, he can't shake the vivid nightmares that continue to haunt him. Nor can he avoid the relentless buzz of his spidey-sense every day in history class, amidst his teacher's lectures on the historical "benefits" of slavery and the importance of the modern-day prison system. But after his scholarship is threatened, Miles uncovers a chilling plot, one that puts his friends, his neighborhood, and himself at risk.
It's time for Miles to suit up." (From https://books.disney.com/book/miles-morales/)
"A bag of chips. That's all sixteen-year-old Rashad is looking for at the corner bodega. What he finds instead is a fist-happy cop, Paul Galluzzo, who mistakes Rashad for a shoplifter, mistakes Rashad's pleadings that he's stolen nothing for belligerence, mistakes Rashad's resistance to leave the bodega as resisting arrest, mistakes Rashad's every flinch at every punch the cop throws as further resistance and refusal to STAY STILL as ordered. But how can you stay still when someone is pounding your face into the concrete pavement?

There were witnesses: Quinn Collins—a varsity basketball player and Rashad's classmate who has been raised by Paul since his own father died in Afghanistan—and a video camera. Soon the beating is all over the news and Paul is getting threatened with accusations of prejudice and racial brutality. Quinn refuses to believe that the man who has basically been his savior could possibly be guilty. But then Rashad is absent. And absent again. And again. And the basketball team—half of whom are Rashad's best friends—start to take sides. As does the school. And the town. Simmering tensions threaten to explode as Rashad and Quinn are forced to face decisions and consequences they had never considered before.

Written in tandem by two award-winning authors, this four-starred reviewed tour de force shares the alternating perspectives of Rashad and Quinn as the complications from that single violent moment, the type taken directly from today's headlines, unfold and reverberate to highlight an unwelcome truth." (From https://www.simonandschuster.net/books/All-American-Boys/Jason-Reynolds/9781481463348)
"Seventh grader Jordan Banks loves nothing more than drawing cartoons about his life. But instead of sending him to the art school of his dreams, his parents enroll him in a prestigious private school known for its academics, where Jordan is one of the few kids of color in his entire grade.
As he makes the daily trip from his Washington Heights apartment to the upscale Riverdale Academy Day School, Jordan soon finds himself torn between two worlds—and not really fitting into either one. Can Jordan learn to navigate his new school culture while keeping his neighborhood friends and staying true to himself?
Universal Pictures has acquired film rights to New Kid, with LeBron James' The Spring Hill Company on board to develop and produce. Craft will be an Executive Producer." (From https://jerrycraft.com/books/new-kid/)
7th & 8th Grade Readers:
"Sixteen-year-old Starr Carter moves between two worlds: the poor neighborhood where she lives and the fancy suburban prep school she attends. The uneasy balance between these worlds is shattered when Starr witnesses the fatal shooting of her childhood best friend Khalil at the hands of a police officer. Khalil was unarmed.
Soon afterward, his death is a national headline. Some are calling him a thug, maybe even a drug dealer and a gangbanger. Protesters are taking to the streets in Khalil's name. Some cops and the local drug lord try to intimidate Starr and her family. What everyone wants to know is: what really went down that night? And the only person alive who can answer that is Starr.
But what Starr does—or does not—say could upend her community. It could also endanger her life." (From https://www.epicreads.com/blog/black-history-month/)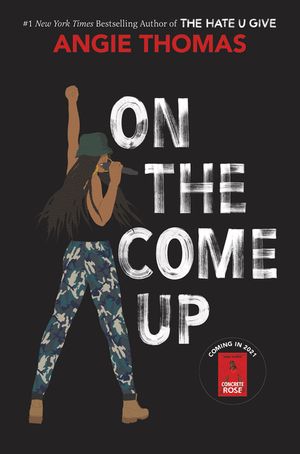 "Sixteen-year-old Bri wants to be one of the greatest rappers of all time. Or at least win her first battle. As the daughter of an underground hip hop legend who died right before he hit big, Bri's got massive shoes to fill.
But it's hard to get your come up when you're labeled a hoodlum at school, and your fridge at home is empty after your mom loses her job. So Bri pours her anger and frustration into her first song, which goes viral . . . for all the wrong reasons.
Bri soon finds herself at the center of a controversy, portrayed by the media as more menace than MC. But with an eviction notice staring her family down, Bri doesn't just want to make it—she has to. Even if it means becoming the very thing the public has made her out to be." (From https://www.epicreads.com/blog/black-history-month/)
"Jane McKeene was born two days before the dead began to walk the battlefields of Gettysburg, Pennsylvania—derailing the War Between the States and changing the nation forever. In this new America, safety for all depends on the work of a few, and laws like the Native and Negro Education Act require certain children attend combat schools to learn to put down the dead.
But there are also opportunities—and Jane is studying to become an Attendant, trained in both weaponry and etiquette to protect the well-to-do. It's a chance for a better life for Negro girls like Jane. After all, not even being the daughter of a wealthy white Southern woman could save her from society's expectations. But that's not a life Jane wants. Almost finished with her education at Miss Preston's School of Combat in Baltimore, Jane is set on returning to her Kentucky home and doesn't pay much mind to the politics of the eastern cities, with their talk of returning America to the glory of its days before the dead rose.
But when families around Baltimore County begin to go missing, Jane is caught in the middle of a conspiracy, one that finds her in a desperate fight for her life against some powerful enemies.
And the restless dead, it would seem, are the least of her problems." (From https://www.epicreads.com/blog/black-history-month/)
"Monster is a multi-award-winning, provocative coming-of-age story about Steve Harmon, a teenager awaiting trial for a murder and robbery. As Steve acclimates to juvenile detention and goes to trial, he envisions how his ordeal would play out on the big screen." (From https://www.epicreads.com/blog/black-history-month/)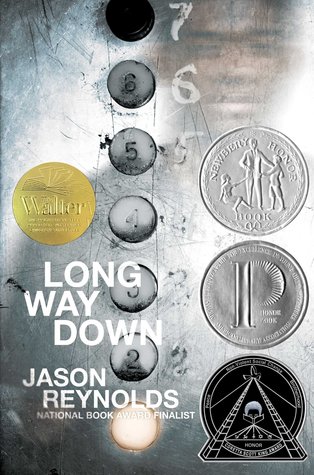 "Fifteen-year-old Will—has a cannon, a strap, a tool, a gun—shoved in the back waistband of his jeans. See, his brother Shawn was just murdered. And Will knows the rules. No crying. No snitching. Revenge. That's where Will's now heading, with that gun shoved in the back waistband of his jeans, the gun that was his brother's gun. He gets on the elevator, seventh floor, stoked. He knows who he's after. Or does he?
As the elevator stops on the sixth floor, on comes Buck. Buck, Will finds out, is who gave Shawn the gun before Will took the gun. Buck tells Will to check that the gun is even loaded. And that's when Will sees that one bullet is missing. And the only one who could have fired Shawn's gun was Shawn. Huh. Will didn't know that Shawn had ever actually USED his gun. Bigger huh. BUCK IS DEAD. But Buck's in the elevator?
And so it goes, the whole long way down, as the elevator stops on each floor, and at each stop someone connected to his brother gets on to give Will a piece to a bigger story than the one he thinks he knows. A story that might never know an END…if WILL gets off that elevator" (From https://www.epicreads.com/blog/black-history-month/)
"Justyce McAllister is top of his class and set for the Ivy League—but none of that matters to the police officer who just put him in handcuffs. And despite leaving his rough neighborhood behind, he can't escape the scorn of his former peers or the ridicule of his new classmates. Justyce looks to the teachings of Dr. Martin Luther King Jr. for answers. But do they hold up anymore? He starts a journal to Dr. King to find out.
Then comes the day Justyce goes driving with his best friend, Manny, windows rolled down, music turned up—way up, sparking the fury of a white off-duty cop beside them. Words fly. Shots are fired. Justyce and Manny are caught in the crosshairs. In the media fallout, it's Justyce who is under attack." (From https://www.epicreads.com/blog/black-history-month/)